Accessibility
The volunteers of the Miljoenenlijn want everyone to be able to take a ride on the steam train.
There are special facilities to make a journey as pleasant and safe as possible for guests with disabilities or for (grand)parents with small children. In addition, volunteers are always ready to lend a helping hand.
Trains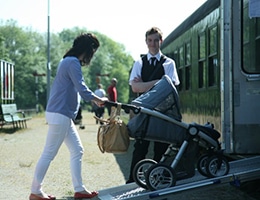 The steam train is easily accessible for people with physical disabilities. For this purpose we have installed a special ramp in one of the carriages and the dividing door has been widened. Also small children and parents with strollers can easily get in and out of the train. In the carriage itself there is sufficient space for a pleasant train journey through the hilly country of Zuid-Limburg.
Due to a maximum difference in height between platform and carriage, the ramp can only be unfolded in Simpelveld and Schin op Geul. It is therefore only possible to board a wheelchair, walker or stroller at these two stations.

The rail bus is currently not accessible with a wheelchair, walker or stroller. A ramp will soon be installed here as well.
Parking
The Miljoenenlijn has three parking spaces for guests with disabilities at Simpelveld Station. Two are at the front of the parking lot, the third place is at the Stationstraat, right in front of our brasserie. Also at the stations Wijlre-Gulpen and Schin op Geul some special parking spaces have been arranged.
Anyone in possession of a European Disabled Parking Card can use it.
Accessibility with an assistance or guide dog
Assistance and guide dogs are welcome at the Miljoenenlijn. An assistance or guide dog must be recognizable by a vest. Dogs are allowed on all trains and are welcome in the restaurant and the Shop.
Toilets
Travelers with disabilities
At Simpelveld Station there is an adapted toilet for our disabled travellers. This toilet is equipped with an extra wide door, armrests and an emergency alarm.
Baby care
Our toilets at Simpelveld Station have a separate changing area. There is a waste garbage can for dirty diapers.
Visit the dedicated website Libergo for more information on wheelchair friendly outings in Limburg!